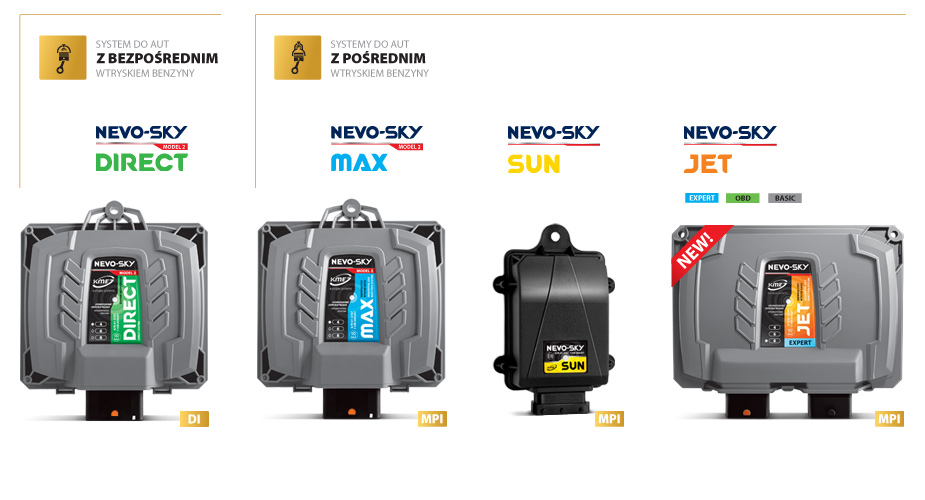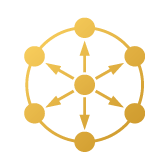 VERSALITY
NEVO-SKY is an innovative and advanced platform, which include controllers for cars with direct injection system (DIRECT) and also controllers for cars with multi point injection system (MAX, SUN and JET); with electromagnetic injectors.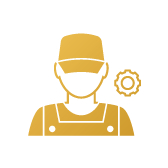 SKY EXPERT SYSTEM
The program was equipped with an advanced expert system to automatically detect abnormalities in the settings and operation of the gas system. System generates hints /warnings. Each time a warning is issued system signal it using sound signal, to not to miss the moment of appearance tips. The user receives help and supervision over correct settings made at each stage of work with the program.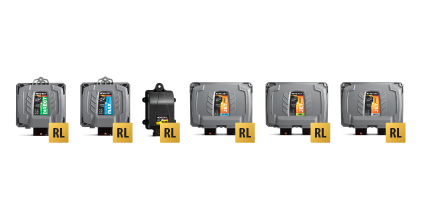 RL VERSION OF CONTROLLERs
Niektóre auta (np. Mitsubishi, czy auta na rynek amerykański) wymagają użycia dedykowanej wersji RL sterownika gazowego. Jest to najbardziej uniwersalna wersja sterownika - można ją użyć w każdym aucie. Wersje RL są dostępne na zamówienie. Some cars (e.g. Mitsubishi or cars for the US market) require the use of a dedicated RL version of the gas controller. This is the most universal version of the controller - it can be used in every car. RL version are available on request.
AUTO-SETUP

AUTO-CONFIGURATION
The system automatically checks and adjusts the parameters of the gas controller (connection of RPM, ignition and injection system type, the number of cylinders etc.)

AUTO-CALIBRATION
The system automatically adjusts the dose of gas on the basis of data from idling.

AUTO-VERYFICATION
The system automatically tests to see and adjusts settings of Auto-configuration or Auto-Calibration during use if the car in traffic conditions.
ECU TECHNICAL CHARACTERISTICS
Software

NEVO-SKY

NEVO-SKY

NEVO-SKY

NEVO-SKY

NEVO-SKY

NEVO-SKY

Number of cylinder [available versions] <

3-4 [4]

1-4 [4]

1-4 [4]

1-8 [6, 8]

1-8 [4, 6, 8]

1-8 [4, 6, 8]

OBD parameters monitor

Automatic OBD errors reset

OBD System Adaptation – OSA

Support reverse OBD correction

Map On-Board System Adaptation – MOSA

Automatic set model

Number of analog inputs, ie. lambda sensor

5

5

0

5

5

5

RPM readings from camshaft sensor

Ability to work without connecting RPM wire

Software filter of RPM signal

Decreasing of gas injection time for cold engine [cold VAG]

Adding petrol on gas / petrol injectors protection

3D

3D

3D

3D

3D

3D

Support for engines with petrol micro injections

Fuel overlap (petrol-gas) during switching to gas

Configureable correction of gas and reducer temperature, vacuum and RPM

Configureable correction of gas pressure

Dose correction for gas injectors / bank configuration

Master/Slave function

Gas injectors test

Reducer pressure letting off on cut-off

Gas injectors heating

Advanced self-diagnostic with frozen frames

Built-in fuel level emulator

Built-in fuel pressure emulator

*

*

Congurable engine temperature correction with OBD
* w przygotowaniu
ECU USAGE CHARACTERISTICS
SKY expert system [built-in]

Hydrophobic venting of CPU

Switch-over with low engine load

3D maps of adding petrol

Type of supported engines
[MPI - indirect injection; DI - direct injection]

DI

MPI

MPI

MPI

MPI

MPI

Control panel [switch] - as a standard equipment

DG7

DG7

DG7

DG7

DG7

DG7

Support for LPG nad CNG

Start&Stop function

Workshop options [e.g. maintenance service, protection with password]

Preview of operating parameters with recorder

In case of the lack of gas automatic return to petrol and automatic switch to gas supply

Possibility of emergency start on gas

Set the permissible number of emergency starts

Lock of working on gas after maintenance service time

Sound signal indicating the impending maintenance service

Operating time counter on the gas and petrol

Support vehicles after chip tuning [high power engines]

Extensive system of self-diagnosis

Support STANDARD / TURBO / VALVETRONIC / HEMI / ECO engines

Pressure sensor

CCT6
analog

CCT6
analog

CCT6-D
digital

CCT6
analog

CCT6
analog

CCT6
analog

Color of pressure sensor

szary

szary

czarny

szary

szary

szary
* w przygotowaniu
COMMON NEVO-SKY ECUs FEATURES

&nbsp&nbsp&nbsphydrophobic venting system of the ECU – breathable membrane that regulates humidity and pressure inside ECU
&nbsp&nbsp&nbsp3D maps of adding petrol
&nbsp&nbsp&nbspone software for the whole NEVO-SKY family
&nbsp&nbsp&nbspautomatic software upgrade via Internet
&nbsp&nbsp&nbspmodularity – by adding a module element [eg. harness or EZP emulator] the system possibilities are increased
&nbsp&nbsp&nbsp additional 4 maps for 3D corrections and other configuration options, giving the possibility of precise engine regulation in the whole range
&nbsp&nbsp&nbsp support for cars with START/STOP and HEMI/ECO function – disconnecting of cylinders at low load
&nbsp&nbsp&nbsp built-in advanced diagnostic tools - advanced RECORDER with search algorithms and other supporting mechanism – allows to make quick diagnostic and easy recognition and connecting of injector wires
FEATURES OF MAX, DIRECT and JET EXPERT ECUs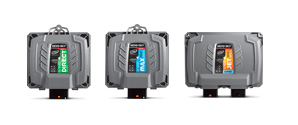 &nbsp&nbsp&nbsp built-in automatic OBD error clearing
&nbsp&nbsp&nbsp built-in fuel level emulator EPP
FEATURES OF DIRECT ECUs

&nbsp&nbsp&nbsp professional platform offering extensive adjustment possibilities (strategies, injection gas angles, corrections for other injections per cycle)
&nbsp&nbsp&nbsp built-in fuel pressure emulator
&nbsp&nbsp&nbsp built-in ylinder breaker – detection of correctness cylinders connection
&nbsp&nbsp&nbsp built-in oscilloscope – it allows to measure petrol injector signals, pump valve ant other voltage signals 0-20V
&nbsp&nbsp&nbsp cooperation with external pump valve emulator EZP - it allows to reduce gasoline consumption [for applications in some cars]
&nbsp&nbsp&nbsp support for modern cars in which there are many injections per cycle
&nbsp&nbsp&nbsp universal system for direct injection engines with electromagnetic injectors
&nbsp&nbsp&nbsp support for cars with digital high fuel pressure sensors
&nbsp&nbsp&nbsp support for VAG DUAL engines with direct and indirect injectors – DI + MPI